Your post mount mail post is the first thing that virtually everyone sees when they approach your home. So, if you want to make a statement about your home, you should consider installing the Williamsburg Estate Mailbox System. This mailbox system exhibits a strong aura of excellence in function and form
Product features
Easy and quick to assemble and install
Sturdy and elegant residential mailbox
Made from rust-free metal in a beautiful design that compliments your homes
Heavy-duty construction and powder-coated finish, creating a long-term investment for your home
The mailbox can accommodate large packages, 19 by 8 by 7.5 inches. There are no additional parts needed to install
The house address numbers are made of solid brass. Also comes with 3M adhesive; therefore, no glue is required
Product description
The Williamsburg Estate Mailbox is one of the best mailboxes in the world today. They are widely used as compliments for some of the finest homes. This product was design to give your home a beautiful and long-lasting mailbox that will add value to your home and bring compliments from your neighbors.
It is made from 100 percent rust free powder coated aluminum and you can be sure that it will serve as an attractive introduction to your home for many years to come. Many customers are usually impressed by the product's heavy duty construction.
The product comes with the post, address plate, and mailbox. The address plaque can accommodate as many as 5 two-inch brass numbers that are included in the purchase.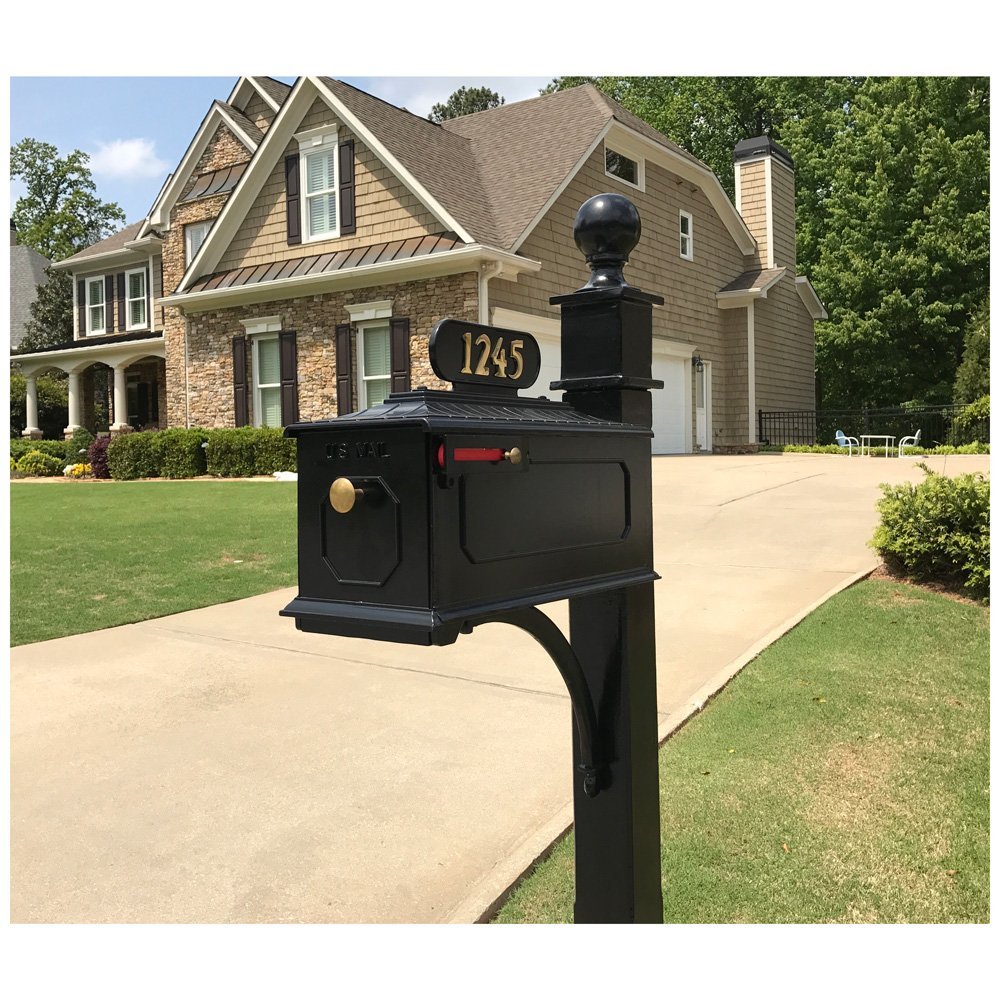 Check the current price on Amazon >>
How to assemble
The Williamsburg Estate Mailbox system is easy to assemble. The components usually come pre-installed and you only need a Philips head screwdriver to assemble. It takes 15 to 20 minutes to assemble the mailbox. Recent improvements have made the assembly of this product even easier.
How to install
Williamsburg Estate Mailbox system comes with a post which is placed in a hole and secured in place with a 60lb concrete bag. You don't need any wood inserts for installation.
The depth of installation depends on your landscaping (hillside, raised curb, etc) as well as your height preferences. The bolt together construction means that all the placements parts are readily available in case your mailbox is damaged.
The post, mailbox, hinge, bracket, number plate and other components can be purchased separately in the event that the mailbox system is damaged.
Why you need the Williamsburg Estate Mailbox system
Aside from the above-mentioned features, there are many reasons as to why you should but the Williamsburg estate mailbox system:
When you get a mailbox for your home, publishes your home address is not necessary. This is very important especially for business owners who have a home office and prefer keeping the location private
◊ Click here to buy the product on Amazon
Less materials and labor costs
Williamsburg Estate mailbox system allows you to enjoy significant savings on material and cost when installing because the design requires on the only post and one mailbox
With a mailbox standing in front of your house, your mail and packages are kept safe unto you pick them up yourself. If will be away for a few days, you don't have to worry about your email or package being left at your doorstep. In addition, you don't need to put a hold on your mail and packages when you are away
With an estate mailbox in your home, someone is always there to receive important packages and letters
Whenever you are expecting a mail, you can simply go to your mailbox and check instead of going to the post office to see if the mail has arrived
You can receive a full-service package
A mailbox receives packages from all carriers. Some mailbox providers will notify you when a letter or package arrives so that you can pick it up at the most convenient time
You can shift but your mail will always be sent to the same place. This can be helpful when you shift from one area to another (no need to fill out address change forms). Some mail services will forward your mail to you when you are out of town for a longer period of time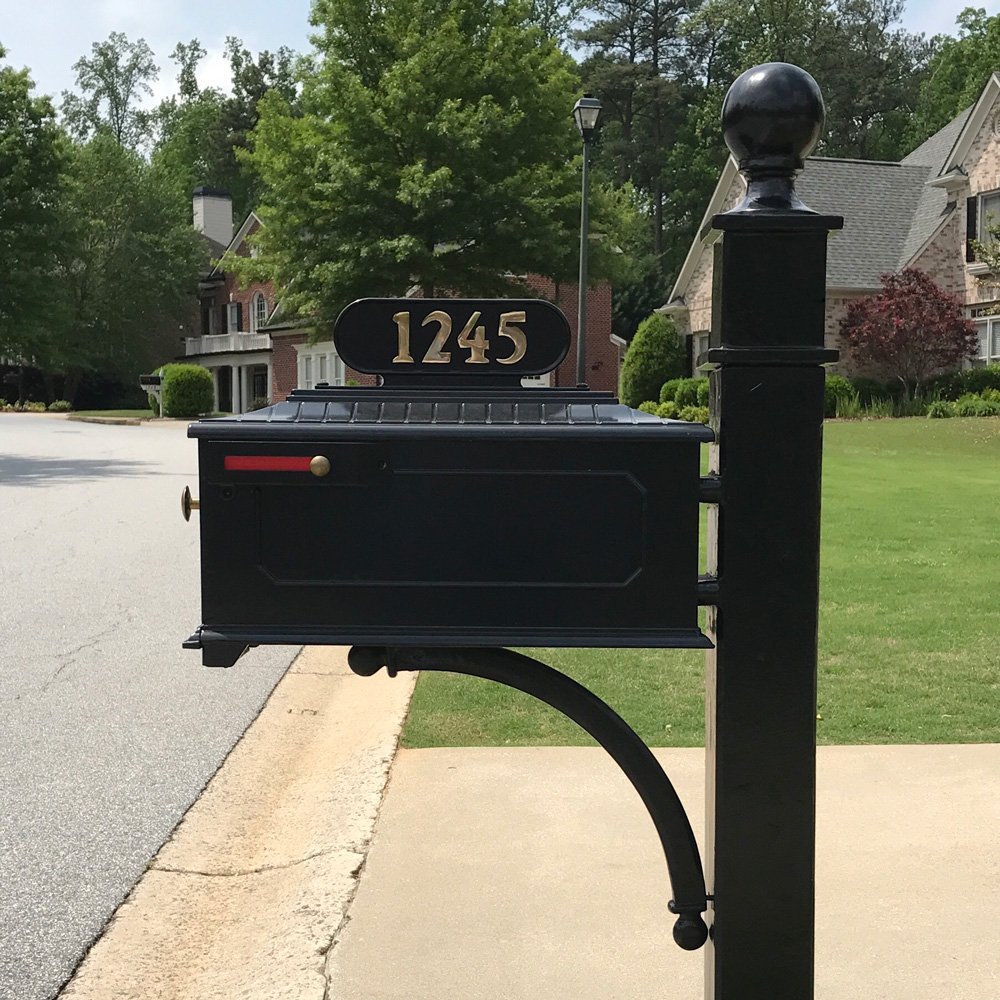 How to install the mailbox properly
Mailboxes must be placed at least 8 inches from the roadside and must be about 42 to 46 inches above the ground, but of course, you can alter the height of your mailbox accordingly. You can choose to extend the arm of the mailbox either parallel or perpendicular to the street. Whichever method you choose, the arm should not extend more than 6 inches from the roadside.
The good thing about the Williamsburg Estate Mailbox post is that it is made of materials that can support the support the mailbox. If you live in an area with too much snow, you need to consider the pressure that the plowed snow will exert against your mailbox. You may need to install your post deeper on the ground or reinforce it with more concentrate.
Conclusion
Williamsburg Estate Mailbox system is not only easy to install but also adds value to your home. It has a beautiful design and its rust-free material ensures that it lasts for long without the need to replace it. It is also large in size to accommodate larger packages. You can be sure that your mail and packages will be safe with this mailbox. This is the perfect long-term investment for your home as it has a heavy duty construction and a powder-coated finish