Over the years, Crock-Pot, the original brand for the slow cooker, has evolved from a single bean cooker into an extensive and diverse line of accessories and slow cookers that make meals and entertaining easier, smarter and convenient for the different styles of cooking. For those who have busy families, Crock-Pot offers the ideal solution wholesome and healthier meals whereas slow cookers designed for portability provide new and varied ways to enjoy slow cooking with this brand.
Product description
Crock-Pot Cook & Carry model SCCPVL610-S is designed with slow cooking features like warm/high/low settings. These features can be set with the button interface instead of the dial. These settings are usually displayed on a digital timer, with the chosen cooking setting highlighted in green light. Digital timers and button settings are common in this price range, but you will not see them in more budget models.
It has a secure rubber gasket and locking lid which creates an airtight seal and helps to prevent spills. Food will remain intact and you can be sure that you will arrive where you are going without any mess or worry. You can bring this slow cooker to family gatherings, parties, potlucks, tailgating and more. Its digital panel allows users to easily customize their cooking time between 30 minutes and 20 hours.
After your food has cooked, the appliance will shift to warm automatically for up to 6 hours to maintain the food flavor and temperature. It has dishwasher-safe components which make it the right digital slow cooker anytime you want to transport food you've prepared at home.
You may also find a sleek looking metallic version in the market, but this one costs a bit more. The color of the cooker doesn't affect the taste of your food though; therefore, unless you desperately need red in your kitchen for a matching color scheme, you would be better off with the steel version.
Check the current price on Amazon >>
The removable oval stoneware is perfect for any table. All removable crockery inserts can be used safely in the microwave and the oven is set up to 400°F. If you have a slow cooker brand, you will need to refer to the manufacturer manual for certain crockery cooking medium tolerances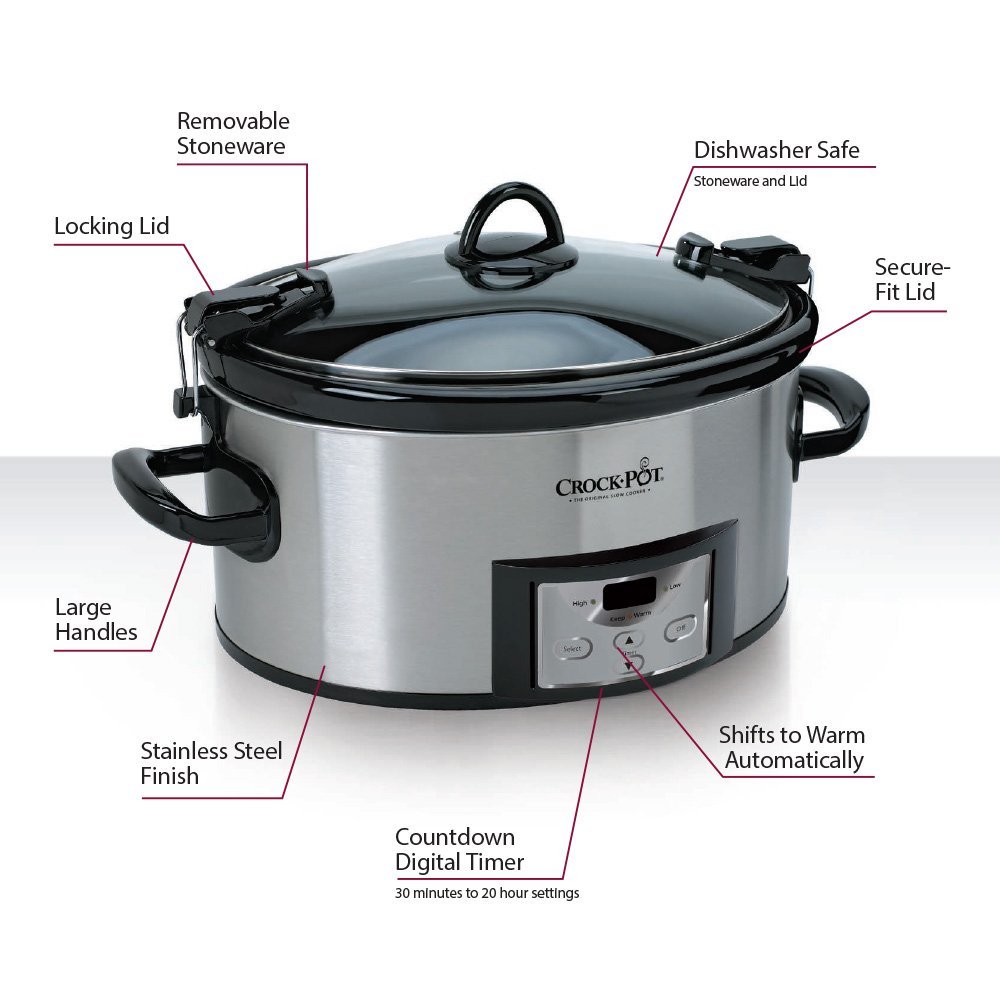 Product features
One year limited warranty
Designed with a 6-quart oval stoneware
Perfect for a 6lb roast or 7 people or more
Digital time helps to count down the cooking time
Can be programmed to cook from between 30 minutes and 20 hours
The cooker automatically changes to "Warm" after cooking
Comes with a lid-mounted locking system which is easy to use for portability purposes
Secure fit lid keeps the unit sealed so that your meals stay in when you are out
Large handles to carry the slow cooker with much ease
Approximate dimensions: 15 by 10 by 15 inches
Model number SCCPVL610-S
Transport slow-cooked meals easily and safely
The appliance has an easy locking gasket lid which helps you to get your destination easily and without making a mess. This pot is ideal for all slow-cooker recipes as its programmable time settings and 6-quart capacity can accommodate different cooking needs on one's schedule.
How to use the slow cooker
For use with slow cooker recipe, the slow cooker helps you to take care of your mealtime on your schedule. It has programmable technology which allows you to program the cook time for the specified period of time we have mentioned above. And when the set cook time is over, the controller will automatically shift to warm so that your meal stays at the right temperature until you feel ready to eat.
This is a good pot for cooking for that you will eat later. It could be preparing dinner for your husband or your children when they are out.
Comparing Crock-Pot Cook & Carry model SCCPVL610-S to other slow cookers
In the 6-quart arena, there are a number of styles of slow cooker-basic and premium. What makes this product outstanding is the timer that comes with it.
◊ Click here to buy the product on Amazon
For those who are looking for more cooking options as well as advanced capabilities though, then you should consider a significant price increase and you will pay somewhere about a hundred dollars.
Who is Crock-Pot Cook & Carry model SCCPVL610-S best for?
There is no doubt that there are many positive reviews for this particular appliance. The truth is that it is perfect for many different types of people. Its programming feature works great for people who will be away from the kitchen for long periods of time but are still looking for precision in their cooking.
The 6-quart capacity works well for small families and individuals and I suspect busy mothers are the number one buyer for this product.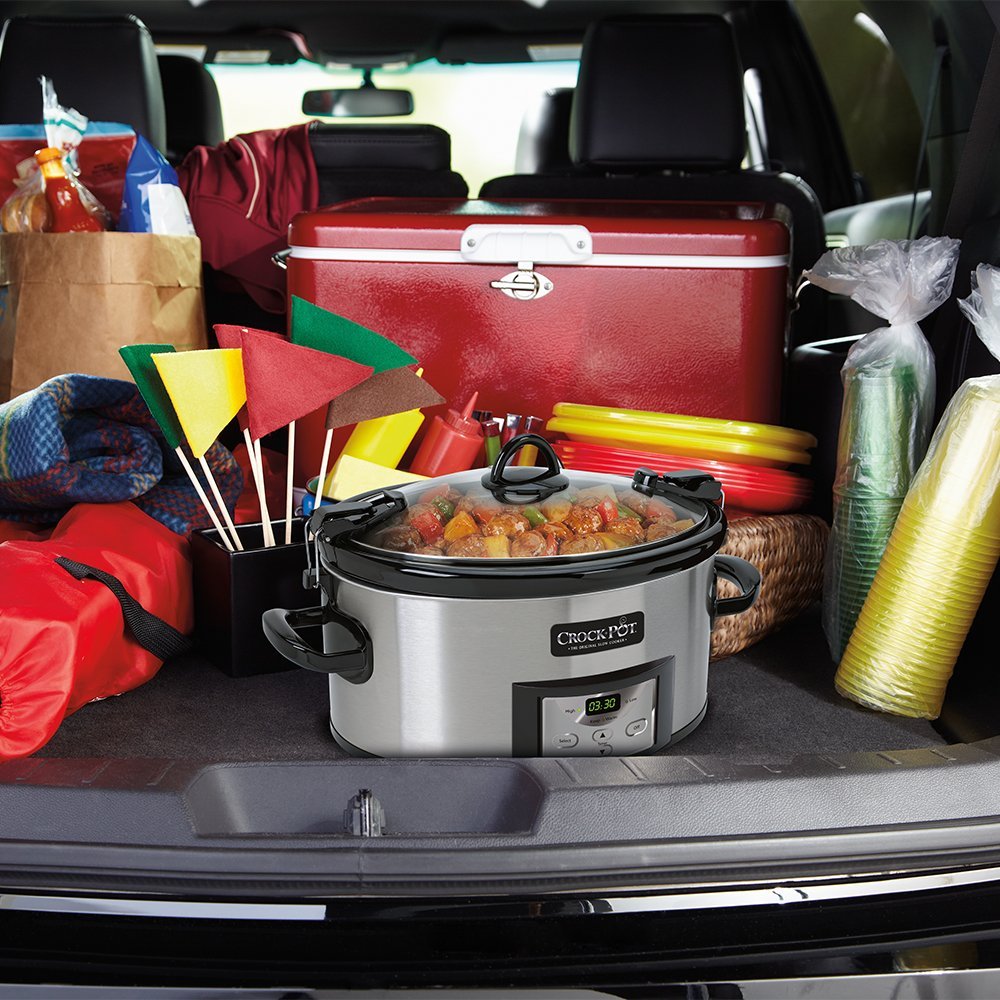 Pros
Reliable brand
Dishwasher safe stoneware
Fairly priced
Compact design when compared to the other 6-Quart models
Easy clean
Many positive reviews online
Time settings
Automatic warming
Digital interface
Makes cooking and serving food easy
Cons
No feature to start the appliance at specific time
Conclusion
The ability to program the cooking temperature or time and the "warm" function makes this a leading kitchen appliance. With more than 3,000 reviews on Amazon, there is no doubt that this is a popular version of a slow cooker. It fits perfectly into the right medium category that is best for an average person. It's fairly priced for a mid-range version that offers upgraded feature, but nothing too much. With the timer, this appliance has the flexibility of cooking that basic models don't have and the 6-quart capacity works well for families and individuals