Probably, ultra-wide monitors are not for everyone, especially people who prefer to have one window open at full size. For people who are looking for an ultra-wide and not using space efficiently, then this is the product for you. And the fact that this product comes with two of these monitors is absolutely incredible. These monitors aren't for everyone, but for those who they are for, they will serve them well.
Continue reading this review to learn more
Product features
Creates a sharp sense of immersion, 34-inch diagonal wide viewing experience with a range of connectivity
Better clarity-full WQHD 3440 1440 clarity at 60 Hz as well as consistent colors on the ultrawide 178°/172° viewing angle combined to fir a more appealing display
Multiple connections with HDMI 2.0, MHL, DP, 2 x USB 3.0 upstream, mini-dp, 4 x USB 3.0 downstream ports, audio out, connecting to secondary devices at once is convenient and easy
It also has powerful 18W speakers integrated
The dual side by side monitor arm helps to adjust the monitors for easy use
The arms retract and extend, tilt to change the reading angles as well as rotate from landscape-to-portrait mode-tilt range 5° forward and 70° back
Also increases desktop space. The desk clamp fits between 0.4″ and 2.4″. This gives a comfortable sitting position to reduce strain
The monitors provide easy viewing. You don't need to toggle between applications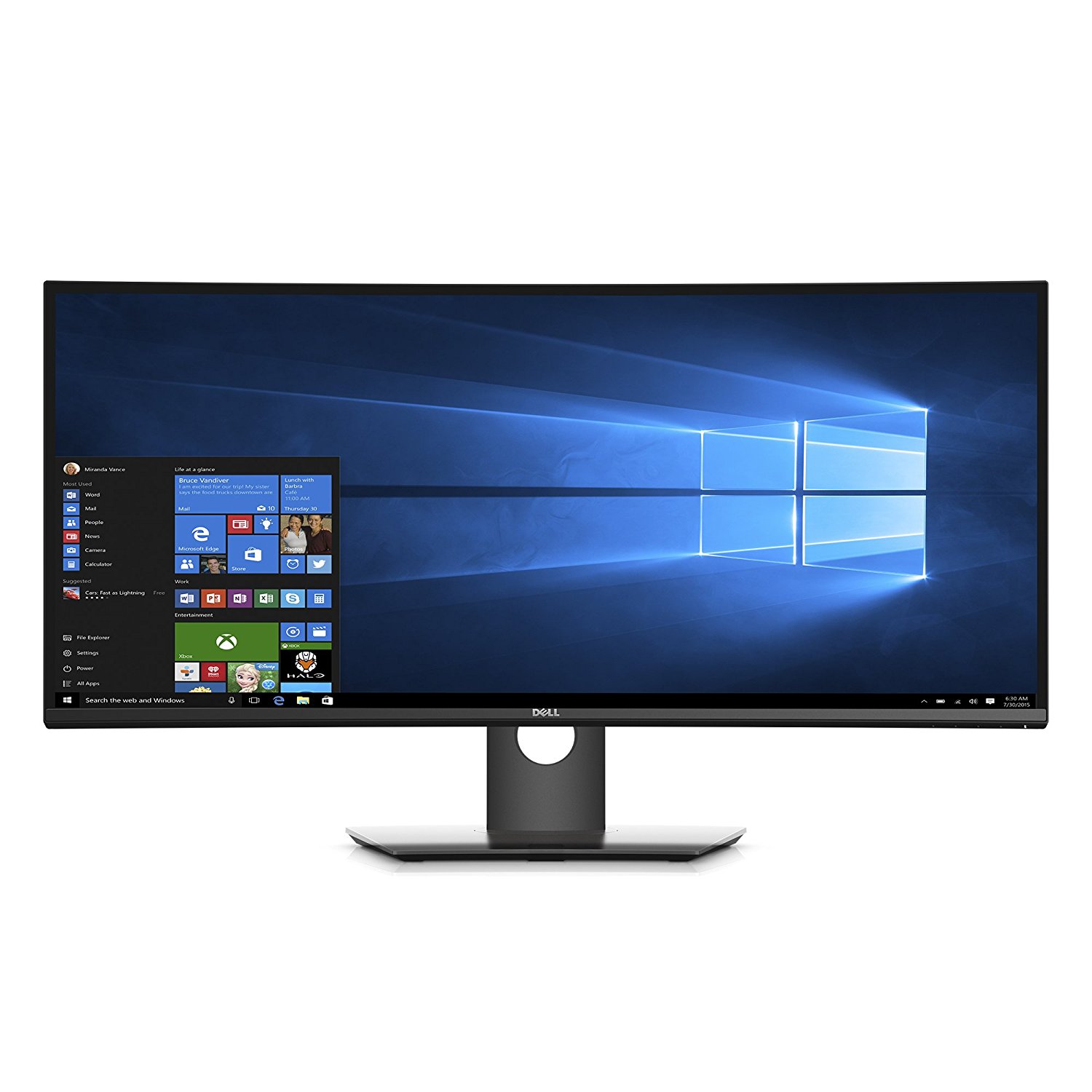 DISPLAY SPECS
Model Number– U3417W
Viewable Image Dimension (diagonal)– 86.72 cm (34.14")
Maximum resolution– 3440 x 1440 at 60Hz
Curve radius– 1900 R
Pixel pitch– 0.233 mm x 0.233 mm
Brightness– (min to typical) 300 cd/m²
Aspect ratio– 21:9
Horizontal, active area– 799.80 mm (31.49")
Color depth– 1.07 billion colors
Viewing angle (typical) vertical/horizontal– 178°/178°
Panel type– In-plane switching
Integrated speakers– 2 x 9W
Vertical, active area– 334.80 mm (13.18 ")
Color gamut– (typical) 99% sRGB (deltaE< 3)
Contrast ratio– (typical) 1000:1
Dynamic contrast ratio– 5 million:1
Response time Fast mode– 5 msgray-to-gray (typical)/Normal mode: 8 msgray-to-gray (typical)
Backlights– LED
Usability and features
The monitors leverage the Dell Display Manager for its device management and customization. This is a good piece of software allows you to adjust displayed images manually, configure energy management, change automatic settings, rotate images, organize windows, and more. You can access Dell Display Manager on a computer by right-clicking the icon on the notification tray.
You will not have any problems navigating the menus and options since the interface is responsive, clean and intuitive.
Check the current price on Amazon >>
Provides an all-encompassing view
You can take home your work projects as well as your home entertainment to the next level with stunning details, amazing display, and quality performance
Sensational screening-The increased screen curvature helps to improve your field of view by basically reducing reflection and also creating a near-uniform visual focus. In turn, this will help reduce your eye movement on the screen so that you can work comfortably for a longer time.
Go deep into action-This monitors offer unmatched gaming immersion. Its extended peripheral vision creates sensations of incredible breadth, depth, and a wrap-around view
Endless entertaining-The curved monitors create a panoramic cinematic experience that will instantly elevate your evening of video streaming
Incredible performance for those who are in the game or n the job
Feast your eyes on this-The monitors have a WQHD 3440 x 1440 resolution, providing a wide viewing angle and consistently accurate color. This will give you clear, sharp views
◊ Click here to buy the product on Amazon
Designed for perfection-The 34-inch monitor is carefully calibrated so that you get 99% sRGB straight from the box
Get comfortable-This monitors gives you optimal eye comfort experience with a ComfortView and a flicker-free screen, which reduces emissions of blue light
A sensory experience-Enjoy impressive visuals and enhanced audio on a large 34-inch monitor with an ultrawide aspect ratio 21:9 and powerful 9W speakers
Customize the layout-You can view multiple applications at a glance in only one window with the Dell Easy Arrange. You can select your layout, and then drag and drop apps where you want
Manage multiple tasks-Picture-by-picture and picture-in-picture features make it very easy to work on many activities and projects simultaneously
Work efficiently-You can display and edit content from two computers on your screen, using one keyboard and mouse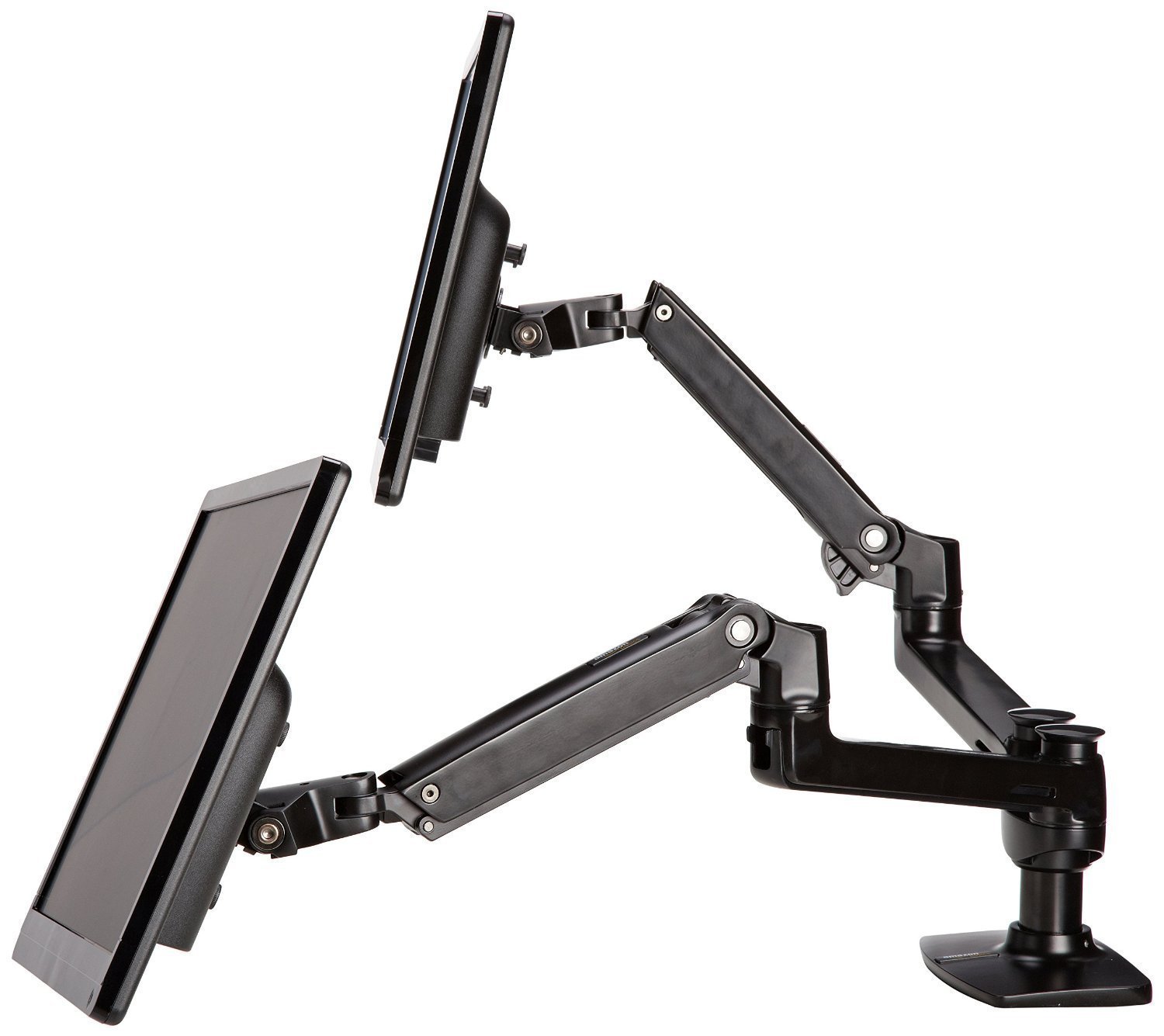 The side-by-side stand monitor arm has smooth-flowing motion
From extension and adjustment to display tilt, and the landscape-to-portrait mode, the monitor arm offers a remarkable range of motion. This unit has a dual side-by-side monitor arm, each arm extending the 34-inch monitor outwards up to 64cm with an extension range of 46cm.
By rotating each arm, you are able to view the monitors in either portrait or landscape mode, which means you will have a full-page view without scrolling
The height of the arm meets the ergonomic needs of many adults and the multiple joints offer exceptional flexibility and secure connections for an ideal set up. Most importantly, repositioning the monitors only requires a light touch for forward, back, up and down.
It is also easy to set up
Setting up this side-by-side monitor is easy and it can be attached to the table in two different ways. The desk clamp will help you to attach it to the edge of the table up to 66mm thick or use a grommet mount to attach the arm that is 7 to 51mm wide and up to 80mm thick. A cable management system helps to keep the monitor cables tucked well under the arm for a tidy appearance and safe use
Conclusion
Two Dell U3417W 34-Inch Screen LED-Lit Monitors offer excellent viewing for people who want to use two high-definition monitors. The side-by-side arm makes it possible to adjust the position of the monitors