Shearwater Research Perdix AI is a modern air integrated dive computer designed for serious recreations and technical divers.
With the launch of Perdix AI, the manufacturer is taking significant steps towards conquering the recreational diving market. Shearwater Perdix Petrel 2 was already popular among technical divers as reliable and durable technical diving computers. The integration of wireless air to the mix also makes this dive computer versatile and a great choice for advanced recreational divers
Were Oceanic, Cressi, Mares, and Suunto are oceanic recreation diver brands that were in the market for a long time, Shearwater Research is a fairly new player in the market. It was founded in 2004 after seeing a need for a better product among technical divers. The Canadian brand saw the need to develop a product with a logical and intuitive interface that was not offered in dive computers and rebreather control systems during those days.
Shearwater quickly became one of the key players with their reliable and robust products. The manufacturer's slogan is Powerful Simple Reliable and surely describe their products
Open and closed-circuit dive modes
Check the current price on Amazon >>
Although the Shearwater Research Perdix AI is an intuitive dive computer that basically seems simple, under its hood, it packs a very serious punch. Just like the original Shearwater dive computer, Shearwater Research Perdix AI is an amazingly reliable and advanced dive computer designed for advanced divers, from serious recreational divers to hardcore technical divers. In order to support the different dive styles, this dive computer four different dive modes: Technical and Recreational Open Circuit, Gauge, and Closed Circuit/Bailout.
In both open and closed circuit modes, divers can use up to five gas mixes.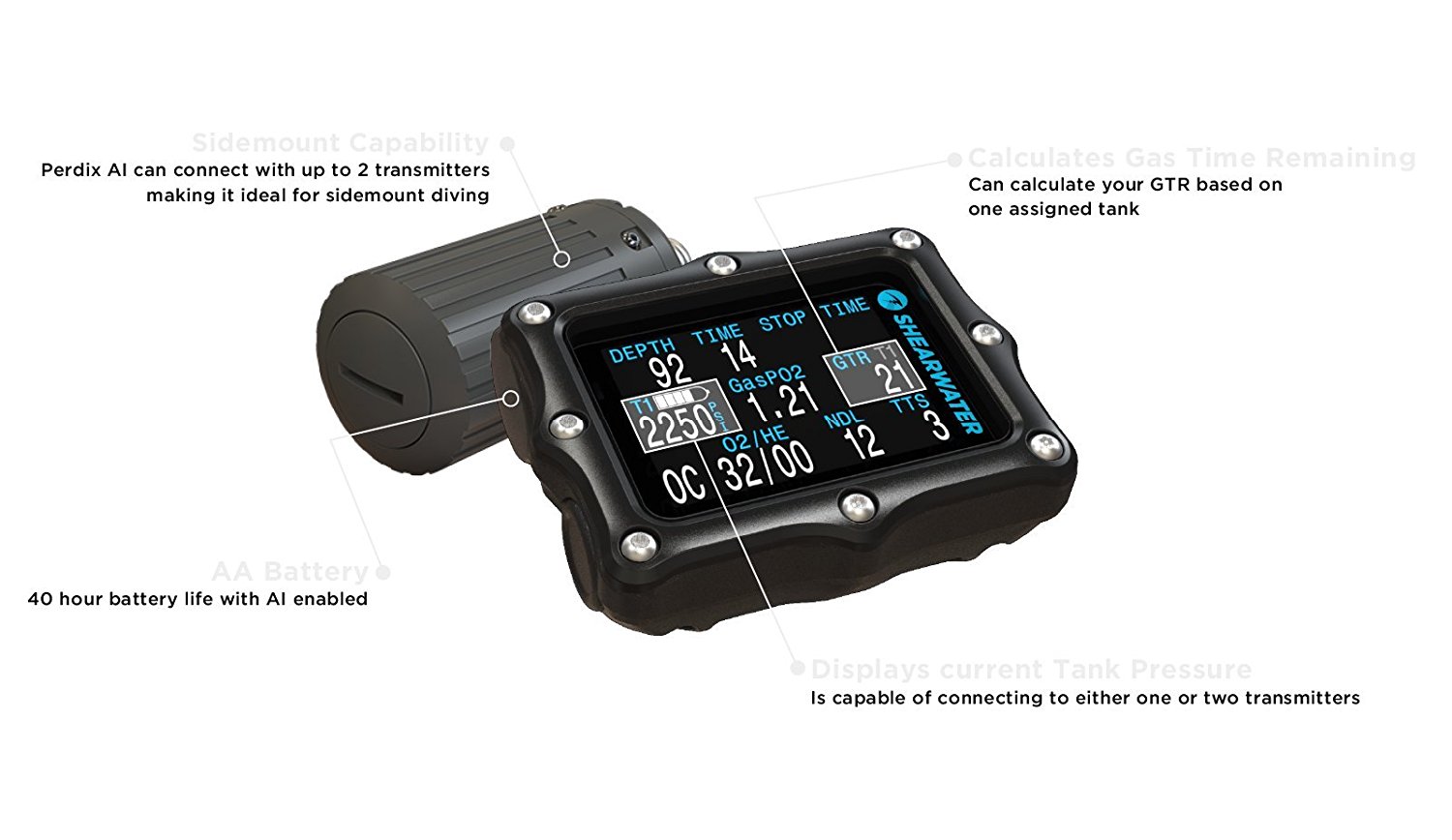 Shearwater Research Perdix AI air integration
Although the manufacturer refers to the feature as 'air' integration, you can use other gas mixes. All dive modes can display tank pressure and can be shown in PSI or Bar. Shearwater Research Perdix AI can support up to transmitters, which is good when it comes to side mount diving. It also shows gas pressure for two tanks simultaneously, but GTR (Gas Time Remaining) is calculated based on the current rate of Surface Air Consumption and the assigned gas tank.
GTR calculations on Shearwater Research Perdix AI are meant for no-stop single-tank diving. For those who don't want an air integration computer, the transmitter is optional. Another thing about Perdix is that it also functions well without a transmitter.
Tank pressure wireless transmitter
Shearwater Research Perdix AI supports as many as two transmitters.
◊ Click here to buy the product on Amazon
This works perfectly for side mount configuration. The Shearwater transmitters are provided by Pelagic Pressure Systems. Shearwater Research Perdix AI is designed to work seamlessly with existing rank pressure transmitters. If you have a wireless air integrated transmitter for Aeris, Hollis or Oceanic air integrated dive computer, you can pair it with Perdix AI.
You should note that transmitters that are supplied by Shearwater are not shipped are not ship oxygen clean and should only be used for gas mixtures that are up to 40% oxygen.
Customizable display
It is essential for divers to have important details available at a glance, even when they are under less than perfect diving circumstances. The manufacturer focuses on presenting all the information needed by a diver in a clear and simple manner. So, the Shearwater Research Perdix AI is designed with a 2.2" full color LED LCD screen, two menu buttons, and large digits. Users can adjust the contrast of the display, based on the light available. This way, it becomes easier to read at depth and at the surface.
Shearwater Research Perdix AI has a system set up a function that can be used to determine whether and how certain pieces of information are displayed. It is also possible to customize your display to show what you need and want to see as you dive
Other great features
Shearwater Research Perdix AI also has a digital compass that is easy to use and highly accurate. It does not have wet contacts but it will turn itself on automatically based on pressure increase. Its casing has a max depth of 260m but depth accuracy is guaranteed to 130m.
The sensor will continue to function even at greater depths; however, it will not be as accurate. Both the transmitter and Perdix AI have replaceable batteries. Shearwater Research Perdix AI employs the Buhlam GF algorithm, with an optional VPM-B algorithm.
Just like the Suunto Eon Steel, the Perdix's firmware is upgradeable. This means that the computer will continue to develop and grow with you. These wonderful dive computers also have an integrated bungee mount and support many languages: English, Spanish, French, Italian, Japanese, Simplified Chinese, Korean, Traditional Chinese, Portuguese and German.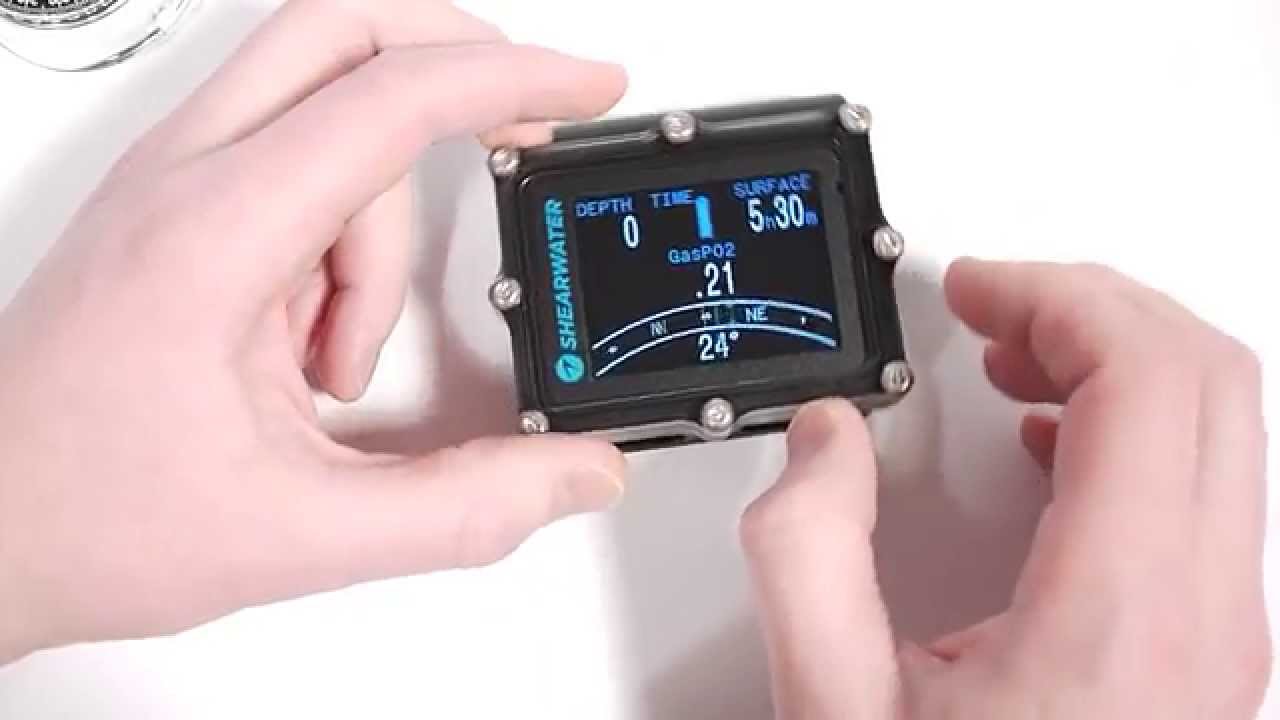 Pros
Easy to read, large digits
Customizable display
Support up to five gases
1000hrs logbook memory
Upgradable firmware
Cons
Bulk when compared to watch style dive computers
Support only two tank pressure transmitters
Conclusion
Shearwater has introduced a high-tech dive computer that appeals to both serious and divers and technical divers. It is a very power-dive computer that will grow with you. With the upgradeable, it means that you don't have to buy another dive computer. Shearwater Research Perdix AI is made by divers for divers. It also has a logical and intuitive interface that can be easily customized to suit your needs, making it a better dive computer for you. If you are a technical driver or serious diver, you can be sure that you won't go wrong with Shearwater Research Perdix AI