It is nice to cozy up with loved ones or sit under a warm blanket while listening to the rain, but without a good gutter, your day could easily become a nightmare. Many homeowners are aware of the need to keep pine needles, leaves, and other debris from clogging the gutter. If this is not done, the runoff water from the roof will spill to the sides and potentially result in significant damages to the landscaping, basement, foundation or sliding. There is where a GutterBrush Leaf Gutter Guard for Standard 5 Inch Rain Gutters comes in.
What is a Gutter brush?
At first glance, a gutter brush looks like a gigantic caterpillar or a large black pipe cleaner. The product is covered with polypropylene bristles which are twisted around a galvanized steel cylinder.
The gutter brush works on a very simple principle. It is perfectly sized to fit inside a standard five-inch gutter with minimum effort. You don't need fastener or screws of any kind to complete this task. The bristles of the gutter brush are meant to repel the leaves while allowing rainwater to flow around the brush.
How a gutter brush works
The gutterbrush has bristles which look like a hedgehog's spikes. These bristles block large leaves from building up in the gutter. However, smaller leaves may stick to the bristles, and for this reason, the gutterbrush has to be cleaned occasionally.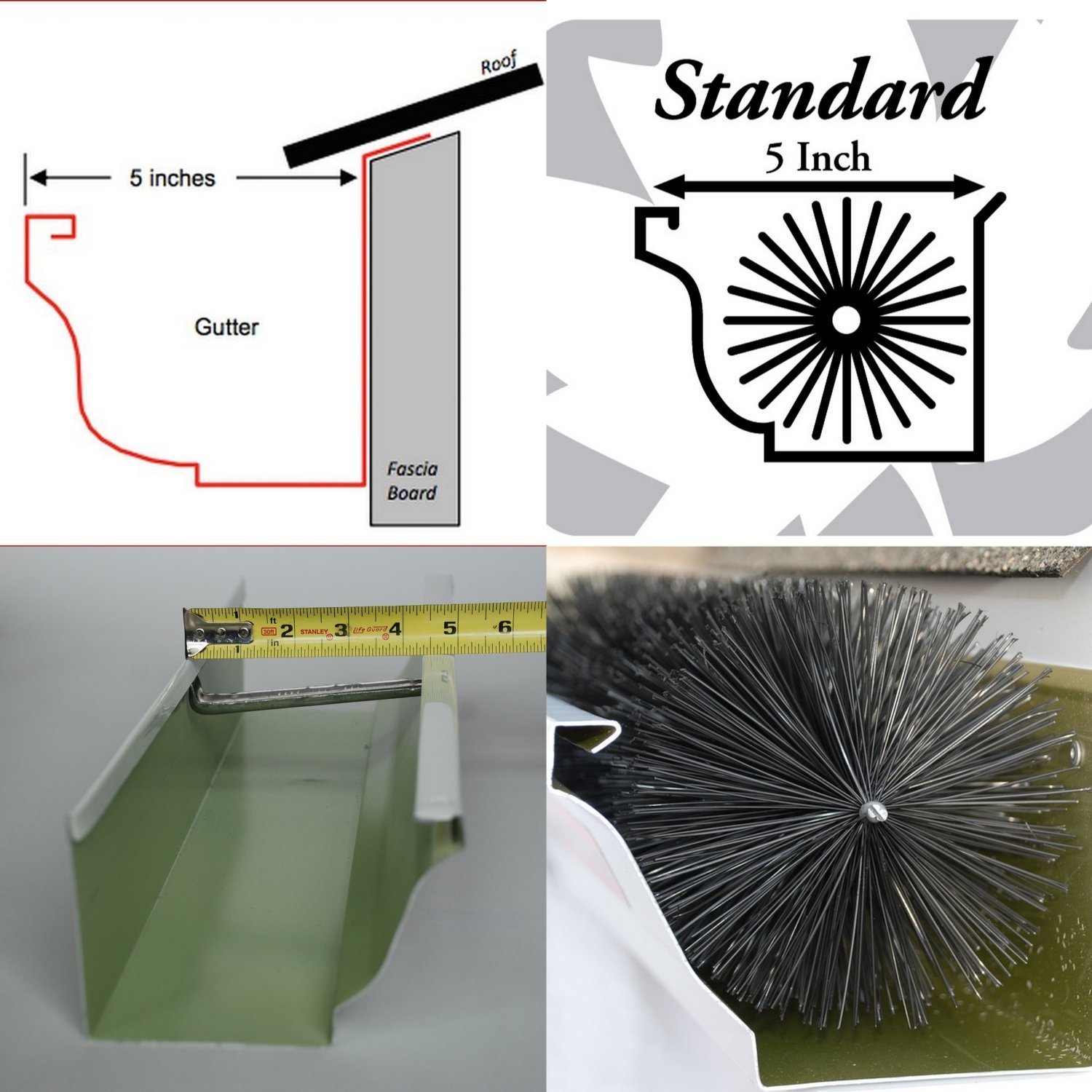 Check the current price on Amazon >>
Product features
The gutter brush protects your gutter from leaves and other debris. It has cylinder-shaped bristles that fill your gutters, preventing the leaves from filling your gutter while allows the smooth flow of water to downspouts
It is a simple, yet effective cutter guard system. It is easy to install this gutter brush. You simply need to fit the brush's bristle along the gutters so that nothing else settles in there. This product is ideal for all climates and all seasons
It is made from durable and high-quality UV polypropylene material for the bristles and galvanized steel wire to make the core. This product has been recommended by reputable home improvement experts such as Dean Johnson/PBS Hometime and HGTV.
This product saves you time and money on gutter repair, maintenance, and cleaning. It keeps the water flowing, thus preventing expensive damage to roofing and foundation
The package contains 38 by 36-inch sections and 4 by 18-inch sections to cover 120ft of residential gutters. It fits perfectly on most 5-inch stand sized gutters
What is GutterBrush leaf gutter guard?
The GutterBrush is meant to prevent the buildup of leaves and other debris in the gutter. If you are tired of build-ups or constantly cleaning your gutter, you need a gutterbrush. You simply need to place it in your gutter and watch as leaves are blocked and water flows through freely. The brush is made from long-lasting and high-quality materials-both the bristles and galvanized steel at the core. In addition, the manufacturer offers a number of gutterbrush sizes; therefore, you can be sure that you will find one that will fit into your gutter perfectly.
Easy to install
Installing this gutter brush is pretty simple and straightforward since you don't need any tools. In addition, you don't need to modify the existing gutter system. You simply need to place the brush into the gutter and it will do the magic. If you want to adjust the length of the brush, fold it over on one end. You don't need to cut it.
Built to last
The manufacturer has used high-quality materials to make this product last for long. It gives you peace of mind knowing that you don't have to go back to the store to get a new one a few weeks after installing. The gutterbrush works through shine and rain and allows water to run through the gutters smoothly
Made in the United States
This product was made in the United States. The manufacturer relies on its US-based team to bring you the best quality products. They are committed to those they serve as customers and those that have played a key role towards making this product the best
Efficient gutter guard
The manufacturer doesn't make false promised. When you use a gutter brush, you will still need to your gutters every once in a while.  But the good thing is that the process is a lot easier because the brush has not been installed permanently. It is as simple as lifting the brush, cleaning the gutter and putting it back in place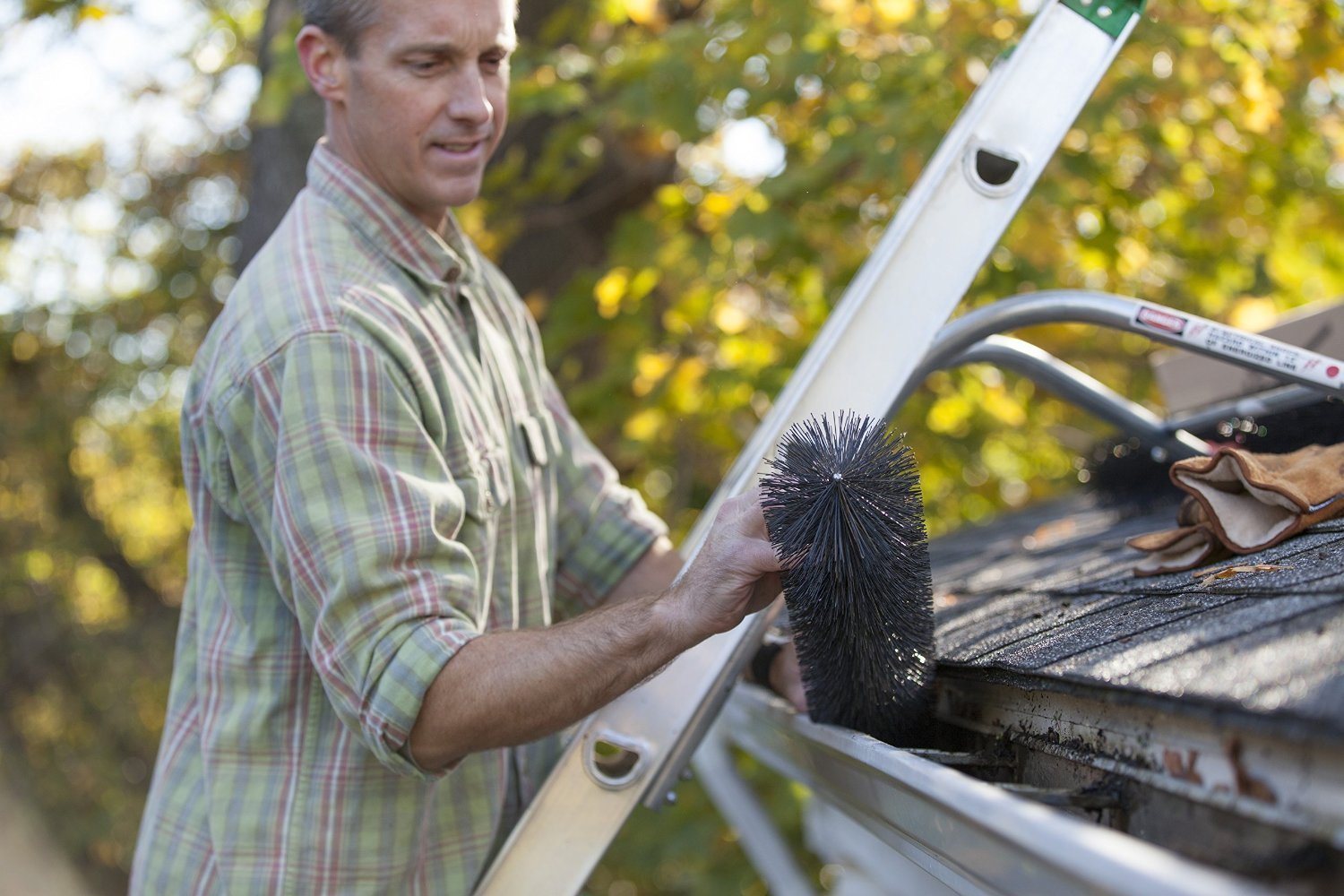 ◊ Click here to buy the product on Amazon
Pros
Comes at an affordable prices
Takes only a few minutes to install
Can fit in almost any gutter
Made from high-quality materials to last for many years
Saves you money and time since you don't need to clean the gutters regularly
Prevents buildup of leaves in the gutter while ensuring smooth flow of water
Perfect for homes that have many trees around
Cons
They need to be cleaned occasionally
When compared to other gutter guards, GutterBrush requires more maintenance
The trapped small leaves and debris may lead to the growth of mildew and mold
Conclusion
GutterBrush offers an inexpensive alternative to commercial grade filters or screen when compared to other gutter guards. It is also made from high-quality material and it's easy to install. Although it requires occasional cleaning, it the best gutter guard you can get for your home. Most importantly, it is easy and takes only a few minutes to install this gutter brush.